Throwing knife AceJet STINGER D2 Knight in GOLD24K
Throwing knife exclusively designed by the 5-time World Champion - Adam Celadin.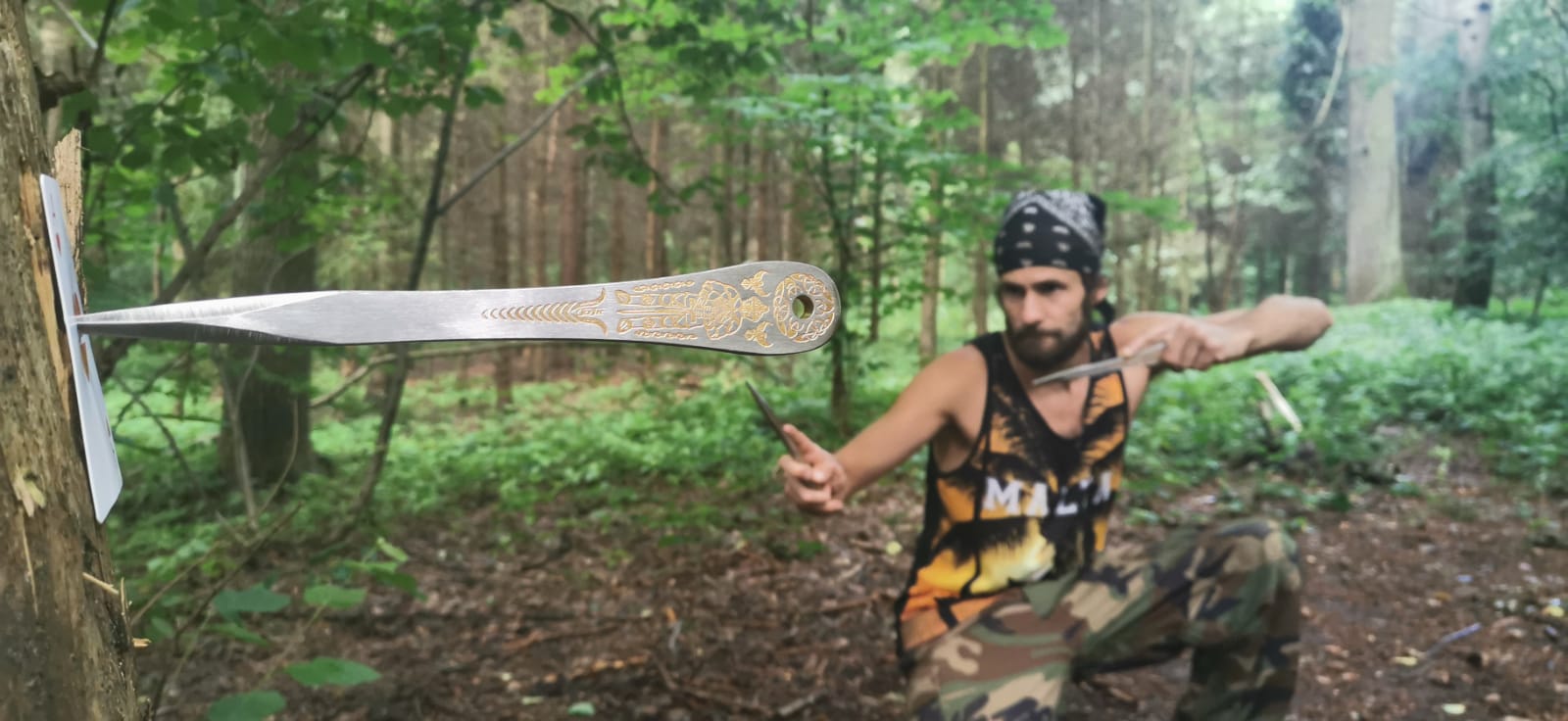 ABOUT
Professional hand made Throwing Knife - developed and daily used by Adam Celadin - 5-time world champion and top guru, mentor and influencer in various disciplines of the throwing knives sports industry
MATERIAL
D2 steel is high resistance kind of tool steel and also very popular knife steel. In industry, it is used for punches, dies and various types of knives in machines.
D2 has a high corrosion resistance - much higher than other tool steels. It is also used in the armament of special army units.
Due to its durability, it is very difficult to grind and machine.
D2 contains a high value of carbon, chromium and a number of refining elements. The composition of D2 is as follows: Carbon: 1.4 - 1.6, Magnese: 0.6, Chromium: 11.0 - 13.0, Nickel: 0.3, Vanadium 1.1, Molybdenum: 0.7 - 1.2
The size of the knives is 9,45 inches (240 mm), the weight is 9 oz (255g), the thickness is 8mm.
TECHNIQUE / STYLE
Smart Arrow Shape for All Throwing Styles - Stinger is the most popular model from Acejet series as it is well usable for all throwing styles like no spin, combative rotation, recreational freestyle and many others
Do you like a classic arrow shape? Than you definitely have to try Stinger, with a great surface and strong durable tip it's the number one candidate for your next trip to a knife throwing tournament. With these you can be sure that you're gonna score well.
ORIGIN - EXTRA SPIRIT AND LUXURIOUS LOOK
We produce everything Handmade in Bohemia. We didn't want our knives to get a factory look. That's why we decided to use hand-etched decoration for these knives.
The decoration of the knife "GOLD 24K" is made of pure 24 carat gold.
THIS KNIVES SET INCLUDES
You receive 3 knives, 3 cards (Aces of Hearts, to be used as target points), Adam Čeladíns scarf, AceJet Sticker and the Certificate of autenthicity.
BENEFITS 
They are handmade in Europe from European materials, no China, no pressure on the manufacturing cost. Our only parameter is TOP manufacturing quality. 
All our knives are precisely designed according to Adam Čeladín - 5 time world champion and top guru, mentor and influencer in various disciplines of the trowing knives sports industry
Lifetime warranty - you buy these knives for life. They will not loose their value, they won´t break and that is why you won´t have to get a new one.
They are designed and manufactured as a professional competition knives.
Adam Čeladín recommend professional knives even to beginners, because they will make much faster progress with them.
The feeling of the grip, flight and the sound of knives hitting a target is just awesome and even starting throwers will fall in love with this sport faster than while using cheap chinese knives.
Do you like STINGER knife? you can choose more variants of this knife: